Beer Break Vol. 1, No. 5
How strong is that beer?
Oct 5, 2000
Editor's Note: Since this newsletter was written, we have compiled a much longer list of beers and their alcohol content.
We've long joked around the office that those advertisements for mainstream "ice" beers promising "more of what you want and less of what you don't" were code for "more alcohol, less flavor." Fact is, there are good reasons to know how much alcohol is in a beer beyond seeking more buzz for the buck. It certainly makes a difference if you plan to get behind the wheel after a couple beers, and perhaps a difference how you will feel the next morning.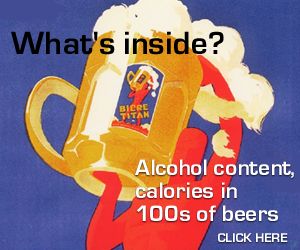 Of course, the government has taken the stance that putting alcohol content on bottles encourages drinkers to look for the strongest beer -- and therefore brewers shouldn't include it. Some responsible publicans, such as the folks at Racers' Cafe in Parkville, Md., post the alcohol content of each beer prominently on a blackboard that lists the beers on tap.
It gets confusing for U.S. beer drinkers because the alcoholic strength of wine the world over and beer almost everywhere outside of the United States is measured by volume. The U.S. legal standard (many states regulate the strength of beer) is by weight. For instance, a beer that is 3.2% by weight is about 4% by volume. If you know the alcohol by volume (abv), multiply that by .8 and you'll be pretty close to the alcohol by weight (abw). Inversely, multiply the abw by 1.25 to find the approximate abv.
As you know, it is a misnomer that darker beers are stronger than lighter colored beers (Guinness Stout at 4% abv versus Westmalle Trippel at 9% abv should be proof enough). But it's safe to bet that barley wines, imperial stouts and doppelbocks will impair your driving much quicker than Bud Light.
So here's a list of beers, the style they represent, and the alcohol content (by volume and by weight) of that particular beer. Of course, the alcohol content of other beers of the same style may vary. We've limited the list to 20 beers. If you'd like information about a particular beer feel free to send email to editor@realbeer.com and we'll try to get you the information.
Alaskan Amber - Altbier - 5.2abv/4.2abw
BridgePort Old Knucklehead - Barley Wine - 9.1abv/7.3abw
Brooklyn Black Chocolate Stout - Imperial Stout - 8.3abv/6.6abw
Celis White - Belgian Wit - 4.9abv/3.9abw
Chimay Grand Reserve - Trappist - 9abv/7.2abw
Duvel - Belgian Strong Golden Ale - 8.5abv/6.8abw
Fuller's London Pride - Bitter - 4.7abv/3.8abw
Gordon Biersch Marzen - Marzen-Oktoberfest - 5.8abv/4.6abw
Mackeson Stout - Sweet Stout - 5abv/4abw
Magic Hat Blind Faith IPA - India Pale Ale - 6.1abv/4.9abw
Oasis Zoser Stout - Oatmeal Stout - 5abv/4abw
O'Dell's 90 Shilling - Scottish - 5.6abv/4.5abw
Paulaner Salvator - Dopplebock - 7.5abv/6abw
Pete's Wicked Brown - American Brown Ale - 5.2abv/4.2abw
Pilsner Urquell - Pilsner - 4.4abv/3.3abw
Redhook ESB - Extra Special Bitter - 5.4abv/4.3abv
Samuel Adams Boston Lager - Bohemian-style Pilsener - 4.75abv/3.8abw
Sierra Nevada Pale Ale - American Pale Ale - 5.3abv/4.2abw
Theakston Old Peculier - Old Ale - 5.6abv/4.5abw
Tucher Helles Hefe Weizen - Hefeweizen - 5.3abv/4.2abw
Tasting notes
CARLSBERG ABBEY ALE
Brewed in Denmark
Michael Jackson writes:
A rare special from the Scandinavian giant. Dark walnut color. Spicy maltiness in the aroma. Hints of cocoa and toffee in the palate. Creamy, fruity (fresh apricots?). Touch of fruity acidity as the finish dries. Light-bodied and restrained for the style, but nicely balanced. This surprising product was brewed from four malts (Pilsner, Munich, caramel and chocolate), and sugar, and hopped with Saaz. It was top-fermented, and bottled unfiltered. Only 3,000 bottles were produced for sale, but it is hoped that more such experiments will emerge every three months.